Bonjour à tous !!!
Plein de réas encore à vous montrer ...
Tout d'abord un canvas :
J'adore les moules Prima, plein de possibiltés !!!!
Un petit pas à pas en images après les photos :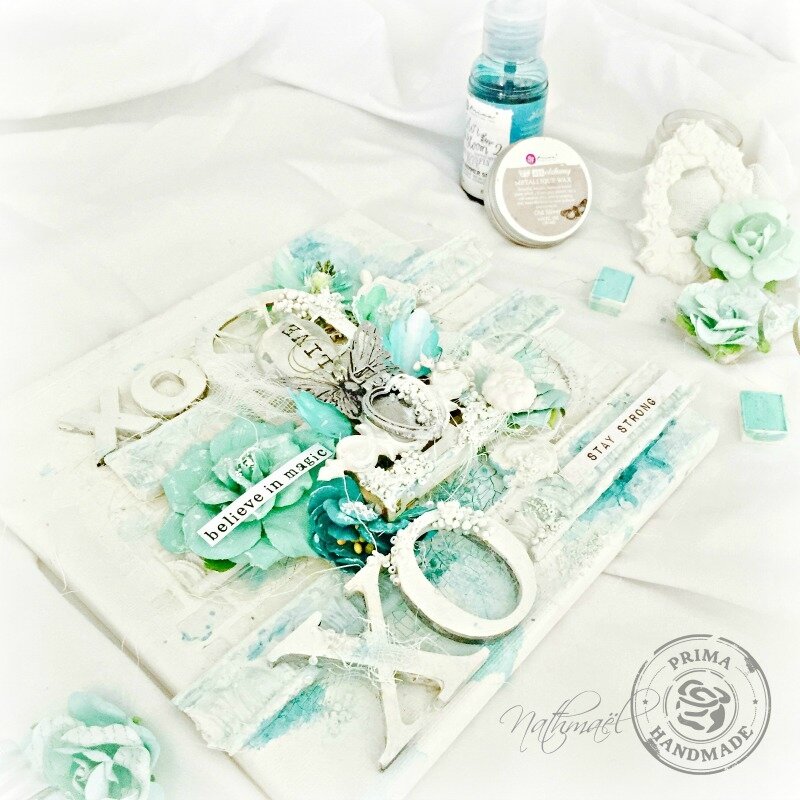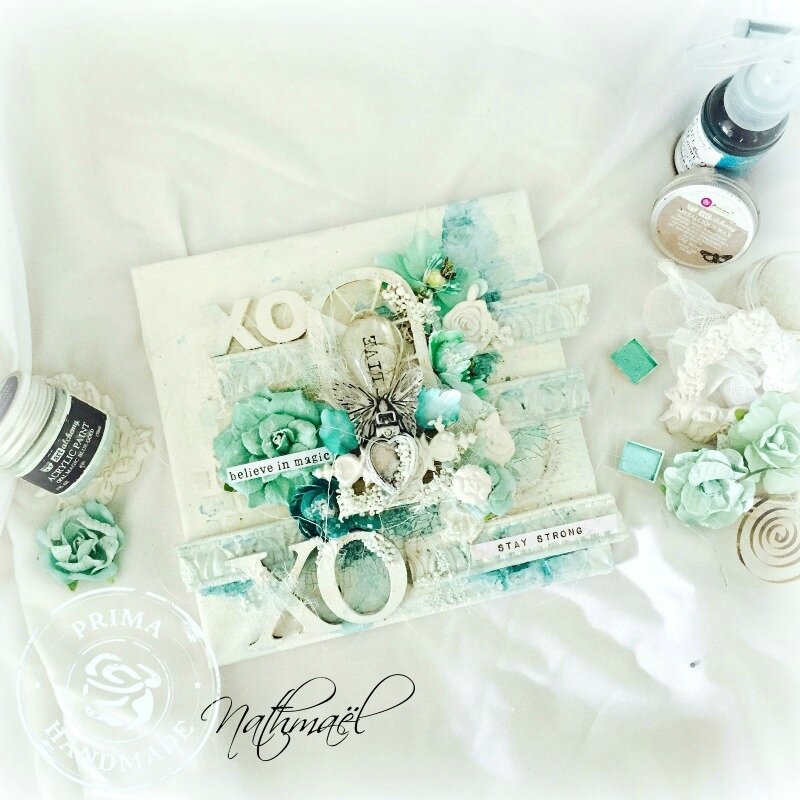 I'm in love with all the IOD Moulds!!! There are so many possibilities with them. Here, I created a canvas using the Vintage Art Décor Moulds "Baroque" and "Fleur". I used also the new beautiful flowers and Wood Alphas. The background was done using White Crackle Texture Paste, Watercolor Confections Pastel Dreams, Opal Magic Blue Gold Art Alchemy Paint and Color Bloom 2 Dragon Fly Blue. I also made a step-by-step to show you the process


Prima products :
#815295 Iod Vintage Art Decor Moulds - "Fleur" - # 814823 Vintage Art Décor Mould - Baroque 6- # 815301 Iod Vintage Art Decor Moulds - "Keyholes" -# 815363 Iod Vintage Art Decor Moulds - "Rustic Fleur" -# 588830 COLOR BLOOM 2 – DRAGONFLY BLUE -# 963675 Art Alchemy: Acrylic Paint-Opal Magic Blue-Gold 1.7oz -#961503 Texture Paste - White Crackle (8.5 oz.) -# 587451 3D Wood Alphas 1.75" Hexagon -# 587468 3D Wood Alphas 2" House -#961671 Art Ingredients-Glass Beads: Crystal 56g -#963996Art Alchemy-Metallique Wax-Old Silver -# 590253 Watercolor Confections - Pastel -#963712Art Ingredients: Mini Art Stones -# 963705 Art Ingredients: Art Stones - #590000 Flower Bundle - Teal – #590017 Flower Bundle - Mint -#594886Prima Flowers - Piper
7 DOTS STUDIO STICKERS
EMBELLISCRAP
Et voici une page pour le MAKE IT PRIMA de ce mois ci :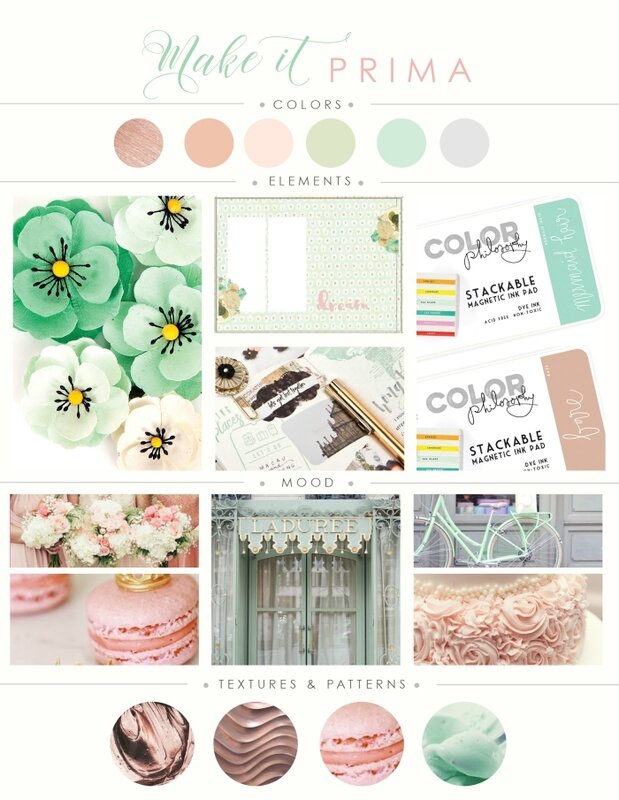 Je vouslais des tons tous doux pour cette page et le combo de ce mois ci est parfait !!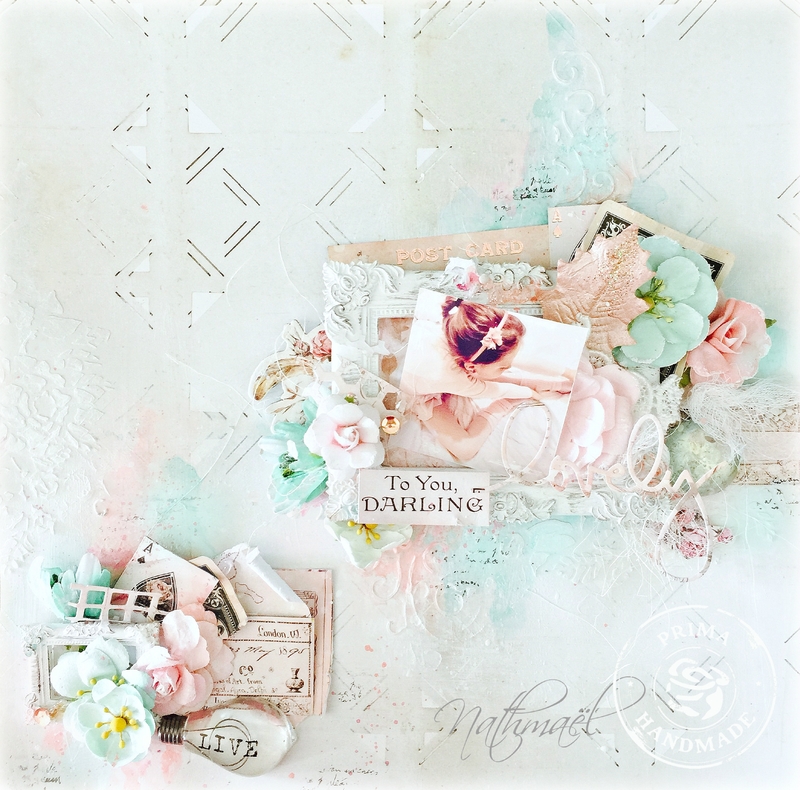 For this picture, I wanted to create something soft and girly, and the new Make it Prima is perfect for this!!! The background was done using Watercolor Confections Pastel Dreams set. I used also two different stencils, a lot of brand new flowers and papers from the Wild & Free collection
Prima products :
# 590253 Watercolor Confections - Pastel - #992347 Chipboard & More - Wild & Free -# 594695 Wild & Free Flowers - Free Spirited - #594572 Wild & Free Flowers - Moonlit Passion -#992255 12 x 12 Wild & free - Everyday You - # 992200 12 x 12 Wild & free - Let's Be Wild - # 590017Flower Bundle - Mint - # 594367Love Clippings Flowers - Endless Friendship - #847777 12x12 Rossibelle - Vintage Memories -#588168 9.5x12 Stencil: The Best... -#587185 8x10 Stencil - Believe
Bisoussssssssssssssss
XOXOXOXOXO
NATH